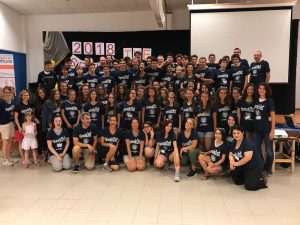 August 2-14, 2019 (Camp in 10 days August 3-13)
Need a decision to go by beginning of April, tickets most likely will be bought mid-late April.
Fly into Bucharest, Romania from Atlanta.
Costs: $860.00 for in-country expenses (apart from airfare which was about $1200 recently)
Airfare is a bit of a wild card in determining the cost of a SpeakOut trip.  If airfare is $1,500, then the overall cost of the trip would be $2,360/person.  This sum includes everything (hotels, meals, camp costs, visiting sites, in country transportation)
Camp is held at a Christian retreat center with a large dorm and another building which houses the dining room and meeting space. Their is AC in the Dining/Meeting building but not the dorm – the windows do have screens and Tommy says it cools down rather nicely at night.
Dress can be mostly T-Shirts and shorts; jeans may be too warm. Sneakers will be good footwear – there may be a lot of walking and if you choose to participate in some of the outdoor activities with the students, you will want good shoes.
It is customary to have small gifts for the students to remember you by – just need something that will let them remember their time with you (something inexpensive that speaks of the USA). Tommy said that gifts have been T-shirts and caps for example. Only need about 7-8 gifts for the small group that you will mentor (there will be about 70-80 students totatl).
They are more likely to wear something that will offend us (since they are largely non-Christian) than we are to offend them. Suggest that we have conservative dress for travel to Romania and our  time in Bucharest. Christian shirts are okay at the camp. Wear HRMG shirts at some point.
Tommy will get a more exact schedule as we get closer but basically:
We arrive in Bucharest
Introductory meeting on the 1st day.
Travel to camp – about 1.5 hours away.
Time at camp
Return to Bucharest – debrief
Sight-seeing
Return to US
SpeakOut Camp Video – The Doves