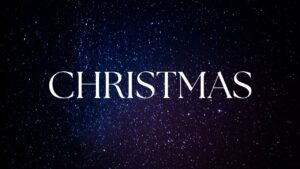 But when the fullness of time had come, God sent forth his Son, born of woman, born under the law, to redeem those who were under the law, so that we might receive adoption as sons. — Galatians 4:4-5
Therefore, since we have been justified by faith, we have peace with God through our Lord Jesus Christ. Through him we have also obtained access by faith into this grace in which we stand, and we rejoice in hope of the glory of God. Not only that, but we rejoice in our sufferings, knowing that suffering produces endurance, and endurance produces character, and character produces hope, and hope does not put us to shame, because God's LOVE has been poured into our hearts through the Holy Spirit who has been given to us. — Romans 5:1-5, ESV
"Does anyone really know what Christmas is all about?"
— Charlie Brown, A Charlie Brown Christmas
I think we'd all agree that the last couple of Christmases have been different. For all of the hope, peace, joy and love that the season brings there has been much in the way of despair, strife, sadness and hate. For Kathy and I, it has been different, too. Yesterday I went to a funeral of one my former parishioners and it was the anniversary of the homegoing of one of Kathy's clients (who happened to be the wife of a good friend).
Yesterday was a mixture of feelings; it was a beautiful day and the drive through the Georgia countryside to get to the church was peaceful. Traveled some new roads and some roads I had not been on in a while. Lots of memories came rushing in – some happy, some sad. Getting to the church, I was pleased to see some familar faces and especially in seeing a young man that I had mentored years ago and receiving a warm hug. I was saddened to see those mourning the passing of a loved one and I was angered that death causes so much pain. The funeral sermon was one of the best I have heard and its theme was "focus on the important – faith and family". I found myself nodding in agreement.
As I have grown older, I have spent more time pondering Christmas and its meaning. One of my favorite things is to wake up early Christmas morning, turn on the tree lights and music and sit with a cup of coffee (or tea) and just enjoy the stillness – I have long been the first one up in the house; the reason is the major change. One of the problems for me is that Christmas doesn't last long enough; sure we have a lot of build-up but the actual event is rather anti-climatic.
But that is far different from that first Christmas; yes, there was a lot of buildup (and 400 years of "silence") but the event itself was anything but anti-climatic! It is the event that splits history, it is the event that happened in the "fullness of time" and it is the event that signaled our redemption and adoption. The redemption of the cross starts at the manger.
I have included the Romans passage in each of these Advent devotions. I see it as a Christmas scripture since it speaks of Hope, Peace, Joy and Love. All of this come in and through Jesus. Despite our sufferings, despite our despair, despite strife, sadness and hate, we have Jesus, whom God sent forth and of whom angels and shepherds sing. This is the good news – this is what Christmas is all about. Focus on the important, take it to heart and go tell it on the mountains: Jesus Christ, our Hope, our Peace, our Joy and our Love, is born!
Merry Christmas,
Steve Pierce