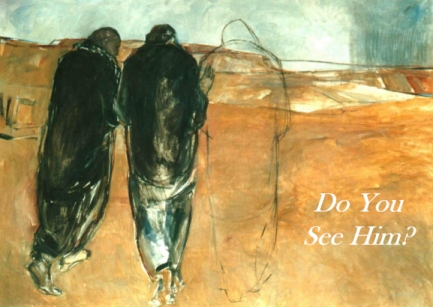 Do You See Him?"Now that very day two of them were on their way to a village called Emmaus, about seven miles from Jerusalem. They were talking to each other about all the things that had happened. While they were talking and debating these things, Jesus himself approached and began to accompany them (but their eyes were kept from recognizing him). Then he said to them, "What are these matters you are discussing so intently as you walk along?" And they stood still, looking sad." -Luke 24:13-17
Have you ever wondered, "Why were their eyes kept from seeing Jesus?" It does seem rather intentional on God's part, and I think, like with all that God does, there are multiple purposes in it. However, let's focus on one.
Keep in mind, this is not a physical blindness, but a spiritual one. The disciples had yet to see Jesus as He truly was. Sure, they had seen His physical form for several years and spent much time looking into His face. But they were constantly perplexed by the things He did and the things He said. And at this point in the narrative, they are all in deep sadness, and they remain there despite all the evidence that Jesus actually did what He said He was going to do—die and rise again on the third day (Mat 16:21; 17:9; 20:19). Apparently, there was the important element of suffering that was missing from their equation (Luke 24:25); and thus, when Jesus appears to them in a more glorified state, (Luke 24:21), they missed Him entirely.
Suffering is often the missing element from our own equation that leaves us reeling in sadness and often feeling as if we are walking alone. I often hear people say that God doesn't really give us answers to why we suffer and cite the book of Job as evidence of this. Yet, I believe Job tells us the opposite. God does give us answers (Job 33:14; 36:10, 15), for we are His "friends" if we seek to obey Him (John 15:15-14). And He has promised to be by our side (Lev. 26:12; Mat. 1:23; 28:20). Perhaps the reason we do not perceive that He is giving answers is because we are listening to another god (Ezek. 14:4) … a false image of Him, an idol in our heart that cannot answer (Isa. 115:3-5). In our suffering, perhaps the reason we are so often saddened by circumstances and feel God has abandoned us, that we are walking alone, is because we are looking for another messiah. The true Jesus is present with us, but we perceive Him not.
Joni Erickson Tada, in an old interview with James Dobson ("God's Purpose in Tragedy I", Family Talk, July 5, 2018) spoke of her own suffering. She had many questions those first few years after the accident that left her paralyzed. She was filled with questions longed for answers from God but got none. BUT, she said, "Once I came to the point of accepting my disability fully and entirely," things started to change. "My trust in God did not depend on my ability or inability to perceive His plan or figure out His mind. My trust in God simply rested on His nature and His character… THEN I began to piece together some of the insights and reasons behind my disability."
God is sovereign, and He does as He pleases (Isa. 115:3). He will not cater to our demands for immediate answers, nor should He (Job 35:9-15). Nor will He be manipulated and controlled by our assumptions and false images (1Sam. 15:23). He is the great I AM, and it is WE who need to bend our will, not Him. Because, He is that GREAT.
Yet God is also incredibly good, promising us gracious love (Exo. 34:6), abundant blessings (Isa. 78:15; John 10:10; Eph. 1:3; 2Pet. 1:3), and ultimate good (Rom. 8:28; Jer. 29:11) through circumstances and men's wicked intentions (Gen. 50:20). In addition, even though a single sin is worthy of death, we go on living day after day breathing in His mercy. Even though we rebelled and became His enemy (Rom. 5:10), He pursued us and rescued us from our bondage to sin. Because He is that GOOD.
Therefore, as we go through this life, may we remember that suffering is a part of God's redemptive work in a fallen, sinful world. Our Lord and Messiah HAD to suffer (Luke 17:25; John 1:29; Acts 2:23; Heb. 10:10; etc.). And since a servant is not greater than his master (John 13:16; 2Tim. 2:3), so as His servants we participate in His suffering so as to participate also in His resurrection power (1Pet. 4:13; Col 1:24; Phil. 3:10; 2Cor. 1:5). If we stay focused on Jesus as He is truly revealed in His Word, trusting in His character (His sovereignty and goodness and the necessity of suffering), then we will indeed see His presence walking with us, and in due time hear the answers we long to understand.
Billy Neal