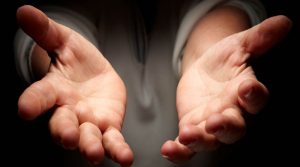 26. Jesus answered them and said, Truly, truly I say to you, you seek Me, not because you saw signs, but because you ate of the loaves and were filled. 27. Do not work for the food which perishes, but for the food which endures to eternal life, which the Son of Man will give you, for on Him the Father, God has set His seal. — John 6:26,27

Over the last several weeks I've been dealing with some physical challenges.  Challenges that my Savior could have easily healed or prevented. In the process many have prayed for that healing, myself included, and the prayer has seemly gone unanswered, or has it?  Does my loving Savior have a greater purpose in mind than my physical comfort?  The people in John 6 had had their physical desires met and wanted more.  Jesus calls them out on it. As the chapter continues, Jesus continues to try to point them to eternal life, but sadly many stayed focused on their physical desires, not on the true purpose of the miracle and left.
Before I go on, I need to clarify that I do believe that miraculous healings are for the present day (James 5:14,15). I have seen them. The thing that needs to be remembered though, as in the days of Jesus the physical healing was never intended to be an end unto itself. The purpose of the healing was to point the person or crowd to a relation with Jesus.  The same is true today. No physical healing on this earth lasts long, we are all in the process of dying, unless their is eternal healing. (Salvation)
As the days and weeks have been passing the words of two songs have been going through my head. 1. Do I want the Healer more than I want the healing? 2. Even though I know that all my Savior has to do is speak the words and I will be healed, but if He doesn't will I trust him any way?  Do I trust my Savior that there are greater purposes going on than my physical healing and or comfort, that of making me more like Him.  Paul said in Phil. 4:11 that he had LEARNED to be content (trust) while he sat in a Roman jail, which God could have freed him from.  Heb. 11:6 tells us that, "without faith (trust) it is impossible to please God."  As I am going through (learning) this process I can not count the times the Holy Spirit has whispered in my ear "do or will you trust me?"  Do I, do you, want the healing that prepares me, you for eternal life more than the comfort of this life?  Do we want the Healer more than the healing???
Tim Smith