For God, who said, "Let light shine out of darkness," made his light shine in our hearts to give us the light of the knowledge of God's glory displayed in the face of Christ.  But we have this treasure in jars of clay to show that this all-surpassing power is from God and not from us. -2 Corinthians 4:6-7
How are we as Christ-followers to interpret these verses? The Christian life is a journey and over time, Christ-followers often grow in their appreciation and understanding of God's Word. Just when we feel we have some Bible verses down and there's nothing more to learn, God has a way of teaching us something new. I think the average Christian progresses in his or her understanding of the above mentioned verses in three stages.
In stage one, the verse centers around us or the jar and not the treasure. We are the center of God's universe. Isn't the jar beautiful? It is so useful! The jar is so great that the light fills the jar and spills out from the top, producing an effervescent glow that can be seen from miles away. Almost like finding gold in a pot at the end of a rainbow. The jar lights up anything it comes into contact with. After all, didn't Jesus say he was the light of the world and that we too are to be a light in a dark place.
In stage two, we come to realize the verse isn't about the beauty of the jar at all. After all, a clay pot was just an ordinary vessel used to carry water and other day-to-day objects around (I think about a Dixie cup today). We begin to understand the jar has cracks in it and that those cracks represent our weaknesses, imperfections, and faults. We understand this verse applies to our post-conversion and that we are both broken vessels before and after we meet Christ. We typically see Christ's light shining through all of our cracks. After all, when we are weak, He is strong. Christ makes up for where we are lacking! The image that comes to mind is something like: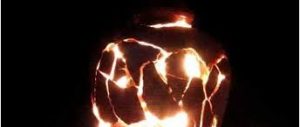 It took me a long time to get to stage two, but it has taken me even longer to get to stage three. In stage three, a jar with light rays shining brightly through all of its cracks doesn't make much sense. It sounds great and the premise is true. But if the jar is such an ordinary item, why wouldn't you just use a new jar instead of one filled with cracks.
I think the best illustration for a jar of clay is:

Jars of clay break easily. And when they shatter, they break into multiple fragmented units. In all of our brokenness, God still chooses to shine the glorious light of the gospel of Jesus Christ through our earthly vessels. In fact, as you read on in the passage, you notice that the Christian takes on a different outlook for life. The Christian faces many troubles and heartache but does not lose heart. This act in itself is a witness to a watching world, as the hope that lives within us, Christ out shines all of our broken pieces. This all-surpassing power is not from ourselves but from God!
I'm not saying I fully understand these verses. Perhaps there is a stage four? And maybe you started out with the understanding of stage three as opposed to stage one. What I do know is God's Word is a mine to be dug, full of gold nuggets awaiting to be extracted. What is God teaching you?
Aaron Dougherty