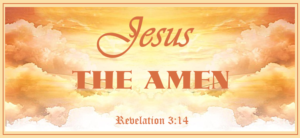 "The words of the Amen, the faithful and true witness, the beginning of God's creation." –Revelation 3:14b
Jesus is THE "faithful and true witness." A witness speaks of what they have seen and heard. A faithful witness is one who speaks truthfully and completely about their personal encounter of which they have intimate knowledge. Jesus stands out as THE embodiment of what a witness IS. He spoke boldly of what He knew—for He was no liar (John 8:55). He came from heaven (John 8:14,22) and testified to the truth (Joh 18:37) and to the very glory of God (Joh 14:9). Therefore, those that recognize Christ as these things (Joh 14:6) and have believed and received His testimony (1Jo 5:10), are now HIS witnesses (Act 26:16) who openly and completely share (by word AND deed) His glorious truth with the world (Act 1:8).
"It is one thing to speak about God in words, maxims, precepts; it is another thing to show us God in act and life. The one is theology, the other is gospel," (MacLaren's Expositions).