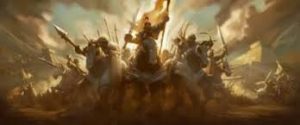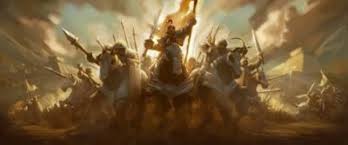 The Bible tells of many men that were surrendered to God and that He used in mighty ways for His purposes.   Do we see those same type of men today?  Do we know what they look like when we do?  Are there any 'in development' now?  The answer to all is or can be 'Yes'.
In the Old Testament we read about David and his Mighty Men.  David himself killed the lion, the bear, and Goliath (I Samuel 17).  David killed his 'tens of thousands' yet David did not stand alone.  He was instead surrounded by 37 great men (2 Samuel 23:8-39).   His mightiest fighting men included Josheb-Basshebeth, Eleazar, and Shammah and their recorded efforts against the enemies of God's people seem supernatural.  In the New Testament, filled with the Holy Spirit Peter and the apostles saw 3000 saved in a day (Acts 2:41).  Filled with the Spirit, Stephen testified before the Jews and prayed for their forgiveness as they stoned him (Acts 6-7).  His strength, commitment and love demonstrated in death inspired those of the first Christian church. Paul took the message of gentile salvation before the Jews, Romans, and the known civilized world at that time, through many obstacles including prison, shipwreck, and snakebite.  John saw and delivered the revelation of the end times.  Jesus, the man, walked on water, fed 5000, called Lazarus up from the grave, made the lame to walk, healed the sick, died on the cross as the perfect Lamb of God and sacrifice for our sins, and then defeated Hell and the Grave.  No man does any of these supernatural things in his own power.  Only in the power of the Holy Spirit and only through great faith in and favor of the Father.
These things and greater are still possible today.  Jesus, after promising the Holy Spirit, said you will do greater things than these (John 14:12).  What did the mighty men of the Old and New Testament do that made them different?  What do we need to do today to be used mightily today?
Surrender fully to God and acknowledge Him and the power of the Holy Spirit. 1 Peter 5:6 says, "Humble yourselves, therefore, under God's mighty hand, that he may lift you up in due time." Mighty men acknowledge, accept, and surrender to the authority of God. Jesus chose to serve His Father (Philippians 2:6-8).  Paul surrender to the Lord and made himself a bond-servant of Christ.  Peter said, 'To whom else shall I go?"   David said, "I am fearfully and wonderfully made" and praised God until he died (2 Samuel 7).
Have confidence in Christ. Mighty men aren't in their first rodeo.  They have tried Him and found Him faithful and powerful.  They have seen God's favor.  They have seen God's protection.  They know that God's promises are true in Christ Jesus and they know that His power is provided today through the Holy Spirit.  Consider David's statement in I Samuel 17: 37, "The Lord who rescued me from the paw of the lion and the paw of the bear will rescue me from the hand of this Philistine."
Dismiss fear. Replace it with faith.  Empowered by their confidence in Christ, God's mighty men move forward in full faith instead of cowering or delaying in fear.  Step out on faith.  Then stand in faith.  Jesus is faithful and He promises to provide all that is needed to bring glory to His Father (John 14:12).  If you try Him, you will literally marvel at the results.
Continue to gain experience. God's mighty men are so because they are tested, i.e. they have made their 'stand'.  They have faced the spirits of depression, hopelessness, suicide, fatigue, distraction, alcohol or drugs, cancer, injury, fear, inadequacy, self and doubt.   They have faced these crushing spirits and pushed through.  They have helped others push through. They may be scarred and wounded, but they have seen the power of the Lord in action.  They have survived and the joy of the Lord is their continued strength.    Their experiences become the basis for their great faith and their great story.
Work to 'see' the spiritual battle. Ephesians 6:12-13 says, "For we wrestle not against flesh and blood, but against principalities, against powers, against the rulers of the darkness of this world, against spiritual wickedness in high places. Wherefore take unto you the whole armor of God, that ye may be able to withstand in the evil day, and having done all, to stand."  Gain discernment regarding what you are really battling and understand the tools that you have at your disposal and the promises of God that you can rely on.
Circle up with a group of like-minded Christian men. While you must make your individual decisions and individual stand for God, you do not have to stand alone.  As David stood with other 37 great men, there are other tried and proven Christian men in this country.  Find them, mentor them, or grow together, and circle up and make your collective stand.
The mighty men of God are forged in the spiritual battle.  Trust in the Lord.  See the power of the name of Jesus and the blood of Jesus over these elements and your faith will be enlarged and your vision will be enhanced.  The God of Israel is all powerful and all-knowing.  His Holy Spirit is the power of God in you. Surrender, trust, and obey and see the power of the Lord in your life and in those around you.  You will marvel at His development plan for your life when you look back on it. Who could have known?  You will marvel at his protection when your enemies surround you.  How can it be so?  You will marvel at the victories that He wins for you 'in a day' that you could not have manufactured in a lifetime.  You will marvel at His favor.  And you will 'see' the spiritual battle behind the physical, and 'hear' the Lord clearly.
Derek Dougherty