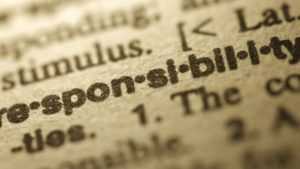 Now it came to pass at the end of seven days that the word of the Lord came to me, saying, "Son of man, I have made you a watchman for the house of Israel; therefore hear a word from My mouth, and give them warning from Me.
— Ezekiel 3:16-17
Men, following the vision where Ezekiel met with the Lord in His glory, Ezekiel sat by the river Chebar for 7 days. These 7 days marked a time of consecration, and also a time of mourning over Israel's condition.
At the end of 7 days, the Word of the Lord came to Ezekiel. The Lord calls him a "watchman" and tells him to hear the Word given to him and to warn Israel accordingly. This time, Ezekiel receives instruction from the Lord by Word, instead of by vision. Ezekiel has graciously been given time by the Lord to process all He has experienced, and given time to accept within himself all he would be called into. The Lord knew when he'd be ready and came to him with a title.
The Lord has a formal role for him to take part in and has impressed upon him the significance of this role. Like a guard or Shepherd, Ezekiel will listen for the Lord and convey any message given to the people. A guard or sentry was a common position in this time, and they were charged with sounding an alarm at the moment trouble was revealed. Ezekiel will be asked to sound the alarm and communicate various troubles for many chapters coming.
Announcing trouble is meant to grant opportunity to respond to that trouble appropriately. Ezekiel will "hear a Word from My mouth" v17, and convey that Word. We all, regardless of the age, have a responsibility to listen for the Word of the Lord. We each have influence given to us by the Lord. We may not hear the audible voice of God, nor speak before a national address, but we each have access to the Word of God, His Holy Spirit, who illuminates His Word, and an audience we can reach. Our audience may be small, but no less important to God.
Move forward men, taking the opportunity to acknowledge and accept our responsibility to take His Word into our hearts with understanding. Speak truths and warnings found in His Word to those you have influence over. May the Lord direct your steps and give us each a voice befitting His Word.
Vance Durrance