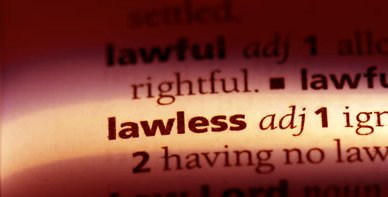 And because lawlessness will abound, the love of many will grow cold. –Matthew 24:12
Men, false prophets will rise up, "and because lawlessness will abound, the love of many will grow cold." Many generations through the ages past could point to lawlessness and wondered if the end were imminent. Today, we share in that familiar curiosity. There seems to be a plurality of systems and standards. There's no end to which indiscretions can be overlooked with the right political connections while someone who steals out of hunger is punished harshly. What was treasonous two generations ago is today's political platform. "Legalease" makes it impossible to trust documents or agreements.
These things are symptoms of lawlessness abounding. Devoid of a genuine standard, humanity is left groping for their version of truth, and leads others to formulate their justice. The shifting sands of today's justice have led to "social justice" which only serves to highlight further perceived injustice. In frustration, we are shutting our doors to the world around us, focusing our residual love into smaller and smaller circles, and growing cold to our neighbors.
Most of us can identify. Jesus told us to expect it and we still wonder why we're seeing it happen on Main Street, or on our block, and in our own hearts. Love is growing cold. The divide between those with Holy Spirit, equipped for all good works, and those whom, by choice or not choosing at all, have followed after the ruler of this age, the enemy, expands. Jude says to continue in love, "snatching some as from the fire".
If we agree on what we're seeing, and it lines up with what Jesus prophesied in chronological timeline, then we do well to recognize these times, to use these sights as evidence to take confidence in the total work of scripture, and consider deeper therefore what the Word says to do in these times.
Move forward men, resistant to the spirit of the ruler of this age. Do not concede to the fall of lawlessness and love. Take hold of His promises. Recognize the season and prepare.
Vance Durrance