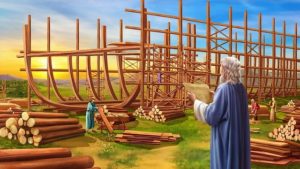 "Make for yourself an ark…." –Genesis 6:14a, ESV
Let's revisit the first few words of this passage.
See that Noah was to "make." In other words, he was "to work, labor, fashion" a means of salvation. Not that his work saved him, for it was "by faith Noah, when he was warned about things not yet seen, with reverent regard constructed an ark for the deliverance of his family," (Heb 11:7a). Yet faith without works "is dead" (Jam 2:17). We hardly trust God's warning of future judgment or His promise of deliverance if we do not act on His commands "to build" (Eph 4:12).
And let us note Noah was told to first build "for [him]self." We cannot save another. We can only make all diligence to "work out [our own] salvation with fear and trembling," (Phi 2:12), and "make every effort to add to [our] faith," the attributes of the Spirit such as excellence, knowledge, self-control, perseverance, godliness, brotherly affection, and unselfish love, in order to be productive in our work (2Pe 1:5-8). We plead that our faith covers our whole household (ex: Act 16:31), but each is judged independently (Eze 33:20). So let us make our election sure (2Pe 1:10), and be found faithful, even if only we ourselves are saved (Eze 14:14; Luke 14:26).
"So then, my dear friends, just as you have always obeyed, not only in my presence but even more in my absence, continue working out your salvation with awe and reverence, for the one bringing forth in you both the desire and the effort—for the sake of his good pleasure—is God." –Philippians 2:12-13, NET 
Billy Neal