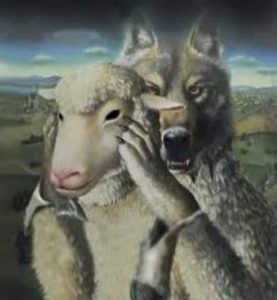 Then I saw standing in the middle of the throne and of the four living creatures, and in the middle of the elders, a Lamb that appeared to have been killed. He had seven horns and seven eyes, which are the seven spirits of God sent out into all the earth.
Then another sign appeared in heaven: a huge red dragon that had seven heads and ten horns, and on its heads were seven diadem crowns.
Then I saw a beast coming up out of the sea. It had ten horns and seven heads, and on its horns were ten diadem crowns, and on its heads a blasphemous name.
–Revelation 5:6; 12:3; 13:1
I continue to study through the rather difficult book of Revelation, chasing after that promised blessing (Rev 1:3) and trying to avoid the temptation to figure it all out (Act 1:7). But as I pondered such strange imagery, I found profound truth in the fact the Beast (Rev 13:1) and the Dragon (Rev 12:3) have many heads. Our enemy has many faces to masquerade his true identity (2Co 11:14), and he will deceive us (Rev 12:9) with a myriad of forms (1Co 10:20), distracting us from the one thing on which we are to stay focused (Luk 10:42). For there are many idolatrous spirits to rule our hearts, many temptations to feed our flesh, and many lies to lay claim over our minds and distort our vision.
Yet even though Christ bears many names (ex: Rev 5:5-6), and his appearance can be complex and mysterious at times (ex: like a slain lamb with seven eyes and seven horns), He has only one face to seek (Rev 22:4). We have only one Spirit to fill our hearts (Eph 5:18) and to follow (Rom 8:14). So do not waste a day distracted by the many faces of our enemy, winding up in useless toil (Ecc 1:14)—but seek His glorious face (Psa 105:4) and perform the duty (Ecc 12:13) of your calling (Eph 4:4).
"But above all pursue his kingdom and righteousness, and all these things will be given to you as well." 
–Matthew 6:33