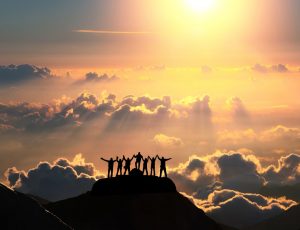 Who is he who overcomes the world, but he who believes that Jesus is the Son of God? This is He who came by water and blood—Jesus Christ; not only by water, but by water and blood. And it is the Spirit who bears witness, because the Spirit is truth. For there are three that bear witness in heaven: the Father, the Word, and the Holy Spirit; and these three are one. And there are three that bear witness on earth: the Spirit, the water, and the blood; and these three agree as one.  — 1 John 5:5-8.
Everyone Fathered by God conquers the world, but how? With what power, means, or tool do we "conquer"? Our faith! Our faith that Jesus Christ is the Son of God, and that His Word is true. Jesus Christ is the One who came by water and blood. Water and blood are historically used to speak of Christ's baptism where God spoke out of the heaven, and Jesus's death and resurrection. He is the only One to be buried and raised both ways. How do we know this? This happened 2k years ago. How can we be sure? Evidence of Jesus existence is overwhelming, but in all the searching and digging, no one has found His body.
But that isn't enough. The Holy Spirit testifies of the truth. The Spirit, the blood and the water all agree, that Jesus is in fact who He said He was: The Son of the Most High God. That should be good news for us who believe. Our faith assures us victory over the powers of this world. But it's not an entirely blind faith. While blood and water are testimonies we have recorded in history, the Spirit is alive and within our own hearts. Our hearts know that He is the Son because the Spirit of God our Father resides in our hearts and testifies of His truth and goodness.
Brothers, we don't have some "old time religion", we have the living Lord of Hope within, empowering us for all the victories Christ died to grant us. No wonder we hear it said, "open the eyes of our hearts Lord".
Move forward men, without defeat. This world may leave its marks on us, but our eternal victory is secure in Faith. Faith is perspective. Faith in Jesus is having the perspective of Jesus. If we believe Jesus could conquer, and we believe His Spirit is within us, we can conquer all that Jesus conquered.