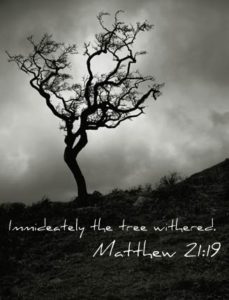 And when the disciples saw it, they marveled, saying, "How did the fig tree wither away so soon?" So Jesus answered and said to them, "Assuredly, I say to you, if you have faith and do not doubt, you will not only do what was done to the fig tree, but also if you say to this mountain, 'Be removed and be cast into the sea,' it will be done. And whatever things you ask in prayer, believing, you will receive." — Matthew 21:20-22
Men, the disciples have watched as Jesus judges a fig tree and it withers away. Mark and Luke tell us, the following day the 12 noted that it was dead. Modern herbicides couldn't do what Jesus has done. While the 12 marvel, Jesus answers, "Assuredly, if you have faith and do not doubt"… they too can do as Jesus has done. Again, faith and believing are 2 different concepts used together. Faith is "seeing" as Jesus would see, and then believing God will do it through us.
Jesus saw the tree as fruitless and dead. The next day, it was. He goes on and says mountains can be removed and cast into the sea. With the parting of the Red Sea during the Exodus, we recognize that there is a very real and literal component to this statement. More often, Jesus is speaking of the Spiritual. Mountains are often used to describe kingdoms in the prophetic. The sea often represents Gentiles. This is before Gentiles came to Jesus en masse. Kingdoms are often ideologies opposed to Godliness.
In short, Jesus may be saying that by seeing as He does, and praying without doubt, the oppression which comes against them will be turned back upon their oppressors. Jesus closes this lesson saying "whatever things you ask in prayer, believing, you will receive."
Let's be real a moment. We seldom pray. We petition. Prayer is a conversation. We mostly toss a request list at the sky and hope for the best. If we are praying, which is hearing and asking in agreement, and believe what we are hearing back from Him, God will engage with us.
I often cringe at writing this knowing too few can discern the voice of the Lord from any other spirit or from their own desire. Even so, the passage speaks and we need to know what is available to true believers. It's not a magic show, it's asking for what He is showing us. It is not by any power within us, but His power on display as we agree with what He wants to do.
Move forward men, asking to see, ask Him to remove the doubt and show you again.
Vance Durrance