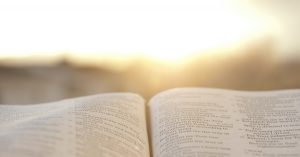 Like many others I have been praying Psalm 91 this week. No, I don't believe it is some magic good luck charm nor do I believe in "name it and claim it". I have chosen (along with my wife) to pray this psalm and to listen to what God is telling us in the midst of the current state of affairs. I spent yesterday fasting and praying during work breaks, asking God what I needed to hear NOW. This is just a few things that have jumped out at me – and I'm still processing it all.
Verse 1 – "the secret place of the Most High". There is a sense of what we call a "safe house" here. And it is the Almighty who stands guard and whose shadow falls upon this dwelling. Where do you dwell?
Verse 4 – "cover you with his feathers" – in the Old Testament the word for feathers is used for eagles and sparrows and as in this case, poetically, for God. Eagles are regal birds and Scripture says we will rise on wings like eagles and Jesus tells that not a sparrow falls but that our Father know about it. We are in not just good hands but the best!
Verse 4 – "His truth should be your shield and buckler" – There is a sense of being fully surrounded by protection, clothed in full armor. This ties in to one of my favorite passages, Ephesians 6:10-20, and the armor of God. I pray that the Truth will open our eyes to see the angel host that works on our behalf, but we are also given tools to stand and withstand.
Verse 5 – "terror by night" – Our enemy loves the darkness. Even before COVID-10 was known, I had spoken to several people who were being spiritually attacked at night, in their dreams. Habakkuk and Zephaniah mention the "evening wolves" – wolves that have not fed during the day and are looking for a meal. The Light of Truth will cause them to flee.
Verse 5 – "arrow" – The shield and armor keep the arrows (darts) from hitting their mark. Again, look at Ephesians 6:10-20.
Verse 8 – This is no cause for believers to say COVID-19 is a plague on the wicked – it is a wake-up call of what can befall any of us if we turn from God. It is a wake-up call for believers to repent of their sins and disobedience and be bolder in their witness, that none should perish.
Verse 13 – "lion and cobra… young lion and the serpent" – Our enemy Is shown as a lion and a snake. As a sign of power over a defeated foe, one would put their foot on the head of defeated one. God said that the snake's head would be crushed. I like what The Message says here, "You'll walk unharmed among lions and snakes, and kick young lions and serpents from the path". How?
"Because he has known My name" – verse 14. To know something in the Bible is more than just "head knowledge", it is what we call "heart knowledge". There is a sense of intimacy, of love. Some translations say "acknowledge" but I don't believe that is the intent here. There are many names (attributes) of God in our Bible and I believe that is because it has to do with how He was known by the one who "named" Him. I choose to address my prayers to Abba, because that is how I know Him. How do you know him? Do you know Him?
Steve Pierce