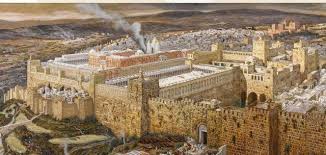 And it will come to pass in that day
That the mountains shall drip with new wine,
The hills shall flow with milk,
And all the brooks of Judah shall be flooded with water;
A fountain shall flow from the house of the Lord
And water the Valley of Acacias.
"Egypt shall be a desolation,
And Edom a desolate wilderness,
Because of violence against the people of Judah,
For they have shed innocent blood in their land.
But Judah shall abide forever,
And Jerusalem from generation to generation.
For I will acquit them of the guilt of bloodshed, whom I had not acquitted;
For the Lord dwells in Zion."
— Joel 3:18-21
Men, the enemies of God's people will be summoned to the valley of decision, where the Lord God will deliver His verdict and judgment. Those who take refuge in the Lord will be strengthened. All will know that the Lord is God.
Another time will come, and on that day the mountains will "drip with new wine." Vineyards will be productive, but new wine also represents a season of celebration. "The hills shall flow with milk." This tells us that in that day, grazing land will be rich enough to support cattle. Remember, Judah is barren at that time following waves of locusts.
Additionally, milk often represents Spiritual blessings in the Old Testament. It is mentioned roughly 50 times in the OT alone. In Joel's time, water would be scarce in certain seasons, but in this coming time the rivers would flow.
Most importantly, it says a "fountain shall flow from the house of the Lord. In Solomon's temple, a literal fountain flowed to feed the many baths for ceremonial preparation. There is likely dual meaning here, a literal fountain may flow, but as the Lord takes up residence in the new Millennial temple, His Spirit will flow out. Go back to Ezekiel for more.
The enemies of God are dealt with in this future time, and Judah is acquitted of all bloodshed from their history. The Lord will then dwell in Zion (Jerusalem). Zion means "fortification". It is the area of Jerusalem where Abraham offered up Isaac, where David bought the threshing floor from the Jebusites and more.
Move forward men, with all the proclamation of judgment and shelter, famine and blessing, war and renewal, we can turn to v18 and recall, "And it WILL come to pass." The Word of God is the reliable road map of what's to come. Combining Joel with the whole of scripture grants us much to watch for. As prophecy unfolds, take care which side of God's Word He may find us in. What is promised is as certain as if it'd already happened. May we each experience the Lord as Shelter, Deliverer, and Redeemer.
Vance Durrance