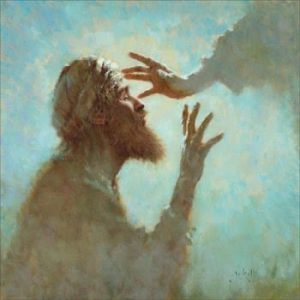 "He was dressed in a robe extending down to His feet and He wore a wide golden belt around His chest. His head and hair were as white as wool, even as white as snow, and His eyes were like a fiery flame. His feet were like polished bronze refined in a furnace, and His voice was like the roar of many waters. He held seven stars in His right hand, and a sharp double-edged sword extended out of His mouth. His face shone like the sun shining at full strength. When I saw Him, I fell down at His feet as though I were dead," – Revelation 1:13b-17a
In chapters 2 and 3 of revelation, there is a pattern to the letters to the seven churches. Jesus corrects the misconceptions they have about themselves—like thinking they are "rich" and in need of "nothing," but in truth the are "pitiful, poor, blind, and naked," (Rev 3:17). Then He goes on to exhort them to live outside the intoxicated system of the world (Rev 17:12; ex: Rev 3:2-3), and to be freed to live (John 10:10) a lifestyle of satisfying worship (Ps 63:3; see Rev 2:4), pursing the life (John 11:25) even "unto death" (Rev 2:10; Phi 1:21).
"For no one can eat and drink or experience joy apart from Him," (Ecc 2:25).
But prefacing each letter is a revelation of Jesus Christ, a reminder of attributes shown earlier (Rev 1:13-16). If we are to correct misconceptions about ourselves, we must first correct our misconceptions about our Creator (Joh 1:3). If we are to more accurately see the world around us, then we must open our eyes to the fullness of the One who reigns over it (Rev 19:16).
So, purchase eye salve from the Lord (Rev 3:18) this morning. Walk by the light of His Word (Psa 119:105) so that you will not stumble (2Pe 1:10; Prov 4:11-13) and see more clearly the goal for which you strive (Phi 3:10-14).
Billy Neal