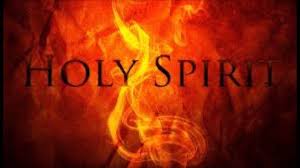 I write these things to you about those who are trying to deceive you. But the anointing that you received from Him abides in you, and you have no need that anyone should teach you. But as His anointing teaches you about everything, and is true, and is no lie—just as it has taught you, abide in him. — 1 John 2:26-27.
Too often when we discuss the Holy Spirit, we view that part of the Trinity as an abstract. We believe in the Spirit through doctrine, but too few of us have learned to acknowledge His Spirit within us.
There is no denying His Spirit however when we discover it through earnest seeking, following the prescription in scripture. Often people who have gained awareness are overlooked as weird or undisciplined. John has another take… John says the anointing of His Spirit teaches all things. That doesn't mean we will suddenly walk around as a genius. But, when we encounter evil, false teachings, hidden agenda and such His Spirit speaks to us and alerts us to the issue at that moment.
The Spirit is the Lord's heart with us daily. If we abide in Him, He abides in us through His Spirit placed inside us. The Spirit identifies falsehood as we engage life and He brings to mind the truth of His Word so we can combat those false ideas and teachings. When the Word tells us to stand strong in the faith, it isn't telling us to do so without being equipped.
Too often we try to rationalize a situation even though we know something inside us is saying it's not a good idea. We are denying the Spirit an opportunity to help us in those moments. Other times we dismiss His Spirit as some chance or coincidence. Be careful with that, dismissing Him borders on blasphemy. Other times, we know it's Him, but reject His leading. We know the Father chastises His disobedient children who He loves.
Move forward men, as teachable children. His Spirit is real, He is alive, and He resides in you as much as you make room for Him. He is accessible to you at an instant contingent upon your willingness to seek Him, submit to Him, and hear from Him. He helps to aid in your walk in Truth and light. He interprets circumstances, environments, dreams, and even interprets His own heart into language we are ready and able to receive. He's a comforter, closer than a brother.
Blessed be His name,
Vance Durrance