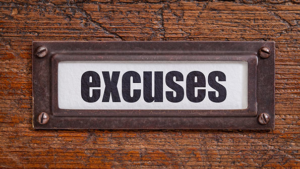 "I answered, 'Oh, Sovereign Lord, Really I do not know how to speak well enough for that, for I am too young.' The Lord said to me, 'Do not say, "I am too young." But go to whomever I send you and say whatever I tell you. Do not be afraid of those to whom I send you, for I will be with you to protect you,' says the Lord." –Jeremiah 1:6-8
What does the LORD say to Moses when he tries to back out of God's calling with the same excuse of being "slow of speech"? "Who gave a mouth to man, or who makes a person mute or deaf or seeing or blind? Is it not I, the Lord? So now go, and I will be with your mouth and will teach you what you must say," (Exo 4:11-12).
The LORD is our Creator. He knows us intimately better than we know ourselves (Mat 10:30). So why would we ever use our weaknesses as if that were a factor in limiting God in His works? If we do so, we are admitting our weak faith and demonstrating a prideful confidence in our own strength and not a humble confidence in His.
And as for the excuse of age before men, "Let no one look down on you because you are young, but set an example for the believers in your speech, conduct, love, faithfulness, and purity," (1Ti 4:12). It matters not our status before men, but simply our faithful obedient walk before our Heavenly Father. So do not fear men, but God alone (Mat 10:28); and live not to please men, but seek to be a slave to Christ (Gal 1:10; Eph 6:6), living only to do the will of The Father (Luke 22:42; John 5:19).
Go as He has directed, and begin to see His gracious hand granting you immense favor and faith (Psa 84:11; 1Pe 1:3-6) as He fills your heart with the joy of His calling and presence (1Ch 16:27; Psa 16:11).
Billy Neal