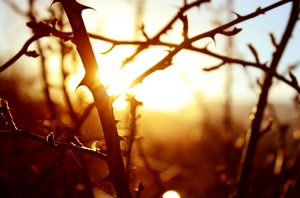 7 So to keep me from becoming conceited because of the surpassing greatness of the revelations, a thorn was given me in the flesh, a messenger of Satan to harass me, to keep me from becoming conceited. 8 Three times I pleaded with the Lord about this, that it should leave me. 9 But he said to me, "My grace is sufficient for you, for my power is made perfect in weakness." Therefore, I will boast all the more gladly of my weaknesses, so that the power of Christ may rest upon me. 10 For the sake of Christ, then, I am content with weaknesses, insults, hardships, persecutions, and calamities. For when I am weak, then I am strong. — 2 Corinthians 12:7-10 ESV
Paul remembers a very special time where he was shown an indescribable event. So that he would not become arrogant in the matter, the Lord allowed what Paul called a "thorn in his flesh". Three times he asked for its removal and each time he was denied, with the reply, "My grace is enough for you, my power is made perfect in weakness". Paul now boasts of his weakness, bearing the insults, troubles, and difficulties for the sake of Christ. Where Paul, myself, and you sir, are weak, He is strong.
The thorn story is familiar. We know about the thorn, but we don't give thought to why. As young men we exercise to become strong. We fill our minds with information so that we can navigate life. Essentially, we are building our self-sufficiency. Here, the Lord makes it clear, -I AM- your strength. We strengthen and train and learn our way into a place where we feel comfortable "serving God" as if God needs our talents and qualities to accomplish His work. The truth is, our strength and intellect more often become stumbling blocks. We justify all our "growth" hoping it makes us more usable, in reality, Father would give us what we need in the hour we need it, if we humbled ourselves, trusted Him, and could submit to His Lordship enough to obey when He says…. fill in the blank yourself. Strength and wisdom are good, but obedience is closer to the Father's heart.
Move forward men, humbling ourselves so that the Lord may lift us up. Prepare yourself to move beyond what you can do. It was not in Moses power to lift a sea, it wasn't in David's power to defeat the giant, it wasn't Israel's power that leveled Jericho. How much do you want to be a part of? Are you willing to be small so that He can do something big? Humble yourself, submit to His Lordship, and obey when He speaks.
Vance Durrance