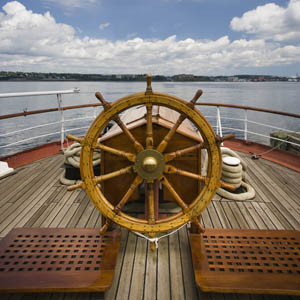 In early September 2017 Hurricane Harvey devastated the Houston-Beaumont and surrounding south Texas area.  In the following days, nearby Mexico experienced an 8.4 magnitude earth quake and had a smaller hurricane make landfall.  Simultaneously, 27 fires were burning out of control in the Western USA and Hurricane Irma took aim at the coast of Florida.  Wars were waging in the Middle East and sabers are rattling on the Korean Peninsula.   All around us, people declare evil as good and good as evil.  Anybody listening?  Anybody seeing?  Are these unpredicted surprises?  Life is full of trials and tribulations (Psalms 34:9) and times will get worse before the return of Jesus (Romans 1: 21-32).
In Chapter 6 of the Book of John, we read that "Jesus perceived that they would come and take Him by force and make him a king, and so he departed again into a mountain himself alone, leaving the disciples and crowd behind.  And when evening came, his disciples went down to the Sea and entered into a ship and went over the Sea toward Capernaum.  It was dark and Jesus was not with them. And the Sea arose by reason of a great wind that blew.  So, when they had rowed 25-30 furlongs, they saw Jesus walking on the Sea, drawing nigh unto the ship; they were afraid.  But, he saith unto them, 'It is I; be not afraid'
Life is full of patches of 'rough seas'.  Through these times, who is at the helm of your ship?  Many Christians have left Jesus behind and decided to journey on their own.  Don't we all do this at times, taking up the oars and the decision making on our own?  When we do, the world will certainly rise up against us, seemingly sometimes in a series of great waves, and lost in the whirlwind we lose focus and begin to fear.  But if we look up, we will see him drawing nigh to our ship saying 'Be not afraid' and calling for trust in Him.
For the disciples in the storm of John 6 they responded well in verse 21, "Then (when they heard and saw and knew) they willingly received him into the ship; And immediately, the ship was at the land whither they went."   When we hear, and see, and invite Him to be at our helm He immediately gives us access to a land better than we know, a land of rest that we could not get to on your own no matter how hard we row.
The new arrangement by Kristine Dimarco (https://www.youtube.com/watch?v=YNqo4Un2uZI) says it so well, "Seas that are shaken and stirred, can be calmed and broken for my regard….Let go, my soul, and trust in Him, the waves and wind still know his name, the waves and wind still know his name."   Do not try to go it alone.  There are currents and chasms that you cannot cross without being taken up on Eagles wings.  Remember Isaiah 26:3, "Thou shalt have perfect peace, he whose mind is stayed on Him, because they trust in him".   Whatever the storm, believe and don't fear.  Focus on Jesus and trust in Him today.
Phil Dougherty